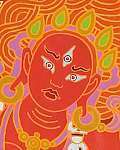 Vajrayogini Feast
Monthly Vajrayogini Sadhana feast practice, open to Sadhakas who have received the Vajrayogini Abhisheka.
We don't know at the time of this listing if this feast wil be online, but will plan as if it will and change as needed.
Please check back for registration information and possible time change.
If it is an online feast, you will need to register to receive a link, but registration is not open yet.