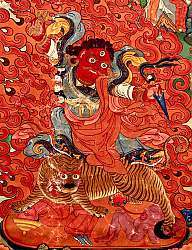 Shambhala Week Sadhana of Mahamudra
Come kick off our Shambhala Day weeklong celebrations with this potent practice, with special readings and toasts.
A sadhana is a traditional Tibetan Buddhist practice involving both meditation and chanting. Chögyam Trungpa Rinpoche (founder of the Shambhala tradition) wrote the Sadhana of Mahamudra in 1968 while in deep contemplation of how to bring the heart of the Buddhist teachings to the West. This profound sadhana invokes the wrathful manifestation of Padmasambhava (the father of Tibetan Buddhism) to help us overcome obstacles and confusion during this time.
The Sadhana of Mahamudra is open to the entire Shambhala community and is practiced on or near the new moon days of the lunar calendar.