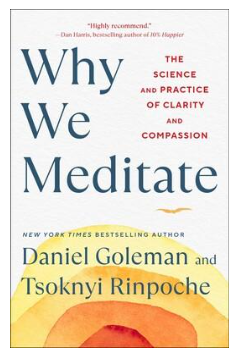 Why We Meditate - Book Class
In these six, in-person sessions, we will explore the rich teachings and exercises offered in the book, "Why We Meditate: The Science and Practice of Clarity and Compassion" by Daniel Goleman and Tsoknyi Rinpoche.
The sessions will be interactive and experiential and are geared toward people who already have some experience with mindfulness/awareness meditation practices. Participants will learn to settle into our natural state of mind and appreciate the webs of thoughts and perceptions we take as our moment-to-moment reality.
Open to all, regardless of spiritual or secular identification. Building is accessible for anyone with mobility concerns. Participants are asked to purchase the book as the basis of study and contemplation. It is easily available as a hard copy and online through Amazon. Please contact HSC if the book cost is a barrier, there will be one available in the library to use on site.
Thursdays, October 5 – November 9, 2023, 7:00-8:30 p.m.
$25 for all 6 weeks or suggested $5 per session. Registration requested.
*Patron pricing allows us to offer scholarships to others and a portion of this patron pricing is eligible for charitable receipting.
Co-sponsored by the Atlantic Contemplative Centre and the Halifax Shambhala Centre.
Class facilitators Trudy Sable, PhD and David Sable, PhD, have been teaching and leading courses and meditation retreats in the Tibetan Buddhist and Shambhala traditions since the 1970s. They both have a long history of working cross-culturally with contemplative education and applied mindfulness.