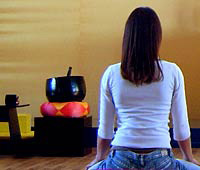 Shambhala Meditation Retreat Day
This Retreat Day is generously offered by the Halifax Shambhala Centre as a free day of group Shambhala Meditation.
Schedule Details: Arrival is generally at 8:30 for 9:00 start. Functional silence is practiced for the whole period from 9:00 am until 5:00 pm so that each person can have their own individual retreat day with the support of the group practice environment. From about 5:00 until 5:30 there is a social time. The lunch period is from 12:00 noon until 1:30 pm and gives us time to eat, go for individual outdoor walks, have a nap, and/or study a bit, while still observing functional silence. Location may change due to other programs, check the board when you arrive.
*When you register please indicate who and/or where you received authorization to practice Shambhala Meditation (not to be confused with our more common technique of Shamatha meditation as taught at Open House and Way of Shambhala).*