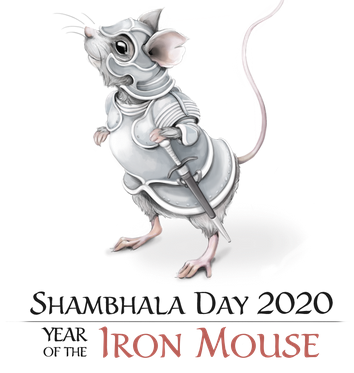 Shambhala Day Celebration- The Year of the Iron Mouse
Shambhala Day marks the beginning of the new year, and it is the most important holiday of the Shambhala mandala. It is based on the traditional Tibetan new year's celebration of Losar. This year we are celebrating the Year of the Iron Mouse!
We aspire to provide a variety of opportunities for your participation. This is a time to highlight many of the precious practices we hold dear at the heart of our community, and it is a time to gather to enjoy each other's company.
Shambhala Day is a time of celebration, nourishment, and community.
Schedule:
Sunday Feb. 23
6:00pm Sadhana of Mahamudra with new years toasts.
Monday Feb. 24
7AM Kalapa Dawn *restricted to werma practitioners*
8:30AM Potluck Community Breakfast - featuring sweet and savoury crepes! Please bring a food offering.
10AM Shambhala Sadhana practice, open to everyone
BREAK
1:30PM Return to the Main Shine room to settle for the live broadcast
2PM Live Shambhala Day Broadcast from Karme Choling, Vermont and Prague, Czech Republic & Annual Fundraising for Shambhala Global Services.
3PM Celebration reception in the shrine room - Welcoming New Staff and saying Farewell to Kaja and Cyndi!