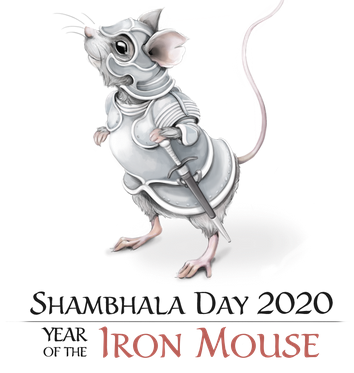 Shambhala Day Celebration- The Year of the Iron Mouse
Shambhala Day marks the beginning of the new year, and it is the most important holiday of the Shambhala mandala. It is based on the traditional Tibetan new year's celebration of Losar. This year we are celebrating the Year of the Earth Boar!
We will be one of the two live broadcast sites on February 5th -- so we will be hosting our international community from our shrine room!
We aspire to provide a variety of opportunities for your participation. This is a time to highlight many of the precious practices we hold dear at the heart of our community, and it is a time to gather to enjoy each other's company.
Shambhala Day is a time of celebration, nourishment, and community.
Tentative Schedule:
7AM Kalapa Dawn *restricted to werma practitioners*
8:30AM Catered Community Breakfast
10AM Shambhala Birthday Sadhana, open to everyone
BREAK
1:30PM Return to the Main Shine room to settle for the live broadcast
2PM Probable Live Shambhala Day Broadcast