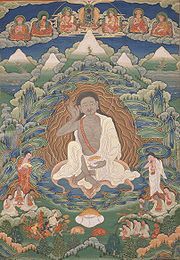 Milarepa Day
Milarepa Day is an all-day guru yoga in which everyone is invited to celebrate the life example of Milarepa, Tibet's greatest yogi, and to unite with his enlightened attitude and with that of the entire Kagyu Lineage through reading their songs of realization in the Rain of Wisdom.
The Kagyu tradition is known as one of devotion. We develop inspiration from how these previous teachers handled their egos, how they practiced renunciation, and how they developed what Trungpa Rinpoche called "humbleness". Yet the songs of realization, as expressed by these lineage holders, reveals that there is no one style of manifestation of enlightened mind.
In reading The Rain of Wisdom throughout the day, the renunciation of the Hinayana, the friendliness of the Mahayana, and the warrior quality of the Vajrayana are brought together.
This event is open to everyone 9am to around 6:00pm (we finish when we read through the book). There will be an hour lunch break and tea will be available in the adjacent Garuda Room.
There will be four sessions:
9-11 AM
11-12:30 PM
Lunch Break
1:30-3:30 PM
3:30-5:30 PM
Please bring your copy of the Rain of Wisdom, if you have one.