All Hands on Deck: Participatory budgeting, here we come again.
May 28, 2014
by beezwings
Join us and vote at the event

 6-9 pm on June 11th, 2014 @ the 

Bloomfield Centre, 2786 Agricola St. Halifax
To find out which district you're in, check out: https://apps.halifax.ca/districtlookup
What is Participatory Budgeting?
It's a simple idea: a municipal district has discretionary funds to improve their communities, groups propose capital projects, residents come and vote in person for their favorite projects, and then not only do multiple projects receive funds, but the whole community has had the opportunity to interact with each other to find out what initiatives are being put forth, be they simple and practical or wild and extraordinary. For more on participatory budgeting in general, watch this video.
HSC's Involvement in District 7's Event
Many of you know that the Halifax Shambhala Centre participated in District 7's second annual participatory budgeting process spearheaded by the district's councillor, Waye Mason. We proposed renovating our kitchen for $16,000. Although we didn't receive enough votes for funding, we were able to meet a lot of folks in the South End and engage with them in a meaningful way.
Another Opportunity
Now we have another opportunity on June 11th, 2014 to submit our project to the residents of Jennifer Watt's district 8 which includes the north end and other parts of peninsular Halifax (see map).
To determine whether we could indeed apply again (and in another district), I took a bike ride to the info session on Agricola St. hosted by Jennifer Watts herself (I am seated next to Asher, heading up the bicycle-repair station initiative at the table on the left). Although there were only about thirty or forty of us, councillor Watts was inspired as she guided us through the process of participatory budgeting.
The Process
Fundamentally, it is the same as district 7:
groups or organizations submit a capital project that will benefit the district's residents irrespective of whether or not the project is physically in the district
if approved by the district's overseeing committee, they present their projects to the residents on voting day who come in person and vote on their five favorite projects
the $94,000 of discretionary funds is awarded to the projects with the most votes until the money is gone; because district 8 is capping the amount to $20,000 per project (compared to $30,000 in district 7), at least four projects will be fully funded.
Councillor Watts and her assistant, Lynn Mathesson, stressed a few things such as the importance for people to vote for exactly five projects, as ballots with a vote for only one project will be tossed since the aim is to make residents aware of other initiatives and not only the one they came to vote for.
Project's Physical Location not Important
Watts twice emphasised the point that the projects themselves don't have to exist in the district, but that they must benefit that district's residents. In the past, she has allocated funds to improve McNab's Island, Shubie Park, Fall River's Search & Rescue, and so on, because these were all utilized by her residents.
Guiding Principles
After explaining the mechanics of the process itself, Councillor Watts encouraged us at our tables to consider what principles projects could be guided by, and people mentioned inclusivity, accessibility, being intergenerational, having widespread public benefit, and long term impact. It seems that at this time these were simply guiding principles, they might become future criteria for coming years.
Talking it Up
It was stressed by Lynn Mathesson to have "your chattiest people" presenting and pitching the projects at the voting event, since it is also excellent opportunity to connect to other groups and see what is happening in Halifax, as many people found the last event. Needless to say, I am planning to be there on voting day, which will also be a chance to let people know about our North End satellite at the Creative Crossing building behind Lion & Bright and Local Source.
Watts and Mathesson Excited About HSC Kitchen Renovation
Most encouraging, however, was when I talked to councillor Watts and Lynn Mathesson directly. They both knew about the HSC kitchen project from the last participatory budget event, and were wonderfully enthusiastic about us re-applying, quelling any lingering hesitations about whether or not our project would be applicable to District 8 residents.
Let's Get 500 People to Vote!
Watts challenged her district to increase the voter turnout from 120 people in 2013 and 270 in 2014 in district 7 to over 500 people; please come out and do as the name of the event says—participate!
To find out which district you're in, check out: https://apps.halifax.ca/districtlookup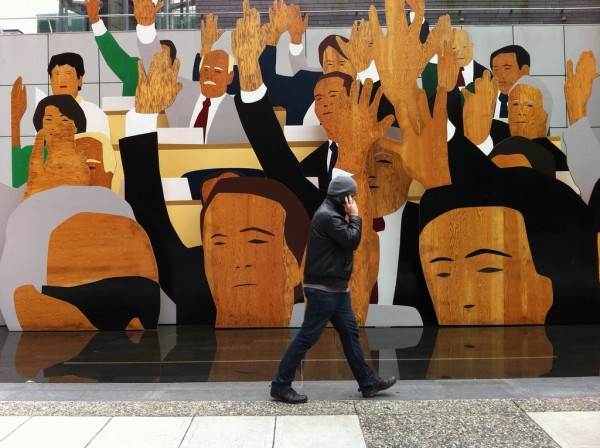 Background
1084 TOWER ROAD has been the home of the Halifax Shambhala Center since 1985. Open to all regardless of age, race, religion or identity, the Halifax Shambhala Centre is home to a vibrant, diverse community of members and friends. We host a myriad of educational, artistic, cultural, family and community activities based on meditation, mindfulness, and contemplative arts. We provide a space to inspire Nova Scotians of all traditions to discover their inherent clarity, gentleness, humor, dignity, and goodness.

All of our food offerings, including a weekly meal usually attended by about 50 members, friends, university students, and walk-ins, have been squeezed out of a very small, residential-size kitchen. Groups using the space often do not to include food in their event because the kitchen is not large enough. They bring in caterers or rent dishes because the dishwasher does not have the capacity for their event and the space is too restricted to serve their needs. We look forward to providing a kitchen that will benefit the community of District 8 and beyond.